Savage 24C Camper's Companion Gun Cases
---
Top Original Factory Cases Other Takedown Cases 1980 Shooter's Bible Savage 24 Page
Questions, comments, or suggestions? Drop me a line at maxiweb1@maxicon.com. If you have pictures and links for a case that's worked well for you, let me know, and I'll add it to the list. All prices are current as of 7/2008.
Many thanks to the fine folks on the Savage 24 Forum at www.savage24.com for lots of advice and suggestions, as well as pictures of the factory cases!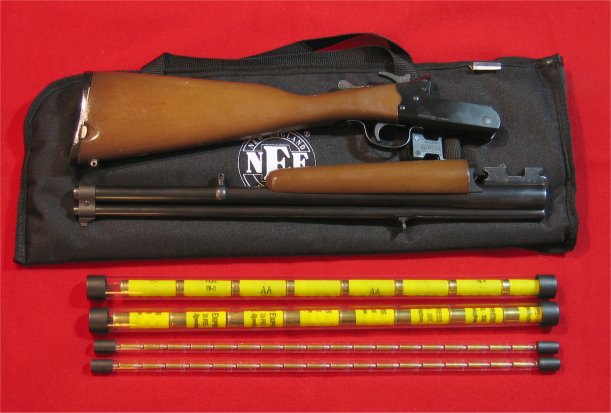 I picked up a nice old Savage 24C Series M over/under 20 gauge/.22 takedown camper gun, and wanted to fit it into a decent but inexpensive carrying case. When broken down, the 24C barrel section is 22.3" long, and the stock/action section is 18.5" long
After a bit of searching, I found this takedown case from NEF. Listed as the Versa-Pack Carrying Case, I ordered it without handling it first, because I have faith in NEF, and it was inexpensive - $21, plus $5 shipping. It's 24"x9" empty, and filling it with the stuff shown makes it about 4" deep. It's made by Allen Case Co, and is a model 306.
Unfortunately, NEF seems to have removed their online store, and this case no longer shows up on their web site. It may be available in their catalog, which can be requested at http://www.hr1871.com/.
I had no idea what the inside looked like when I ordered it, but the two brands of inexpensive take-down cases I tried at the local gun show didn't fit the gun well, with too little padding inside and a poor fit for this particular gun (Ace Case (look under shotgun cases), which I find to be good quality for the money, or Double Triple).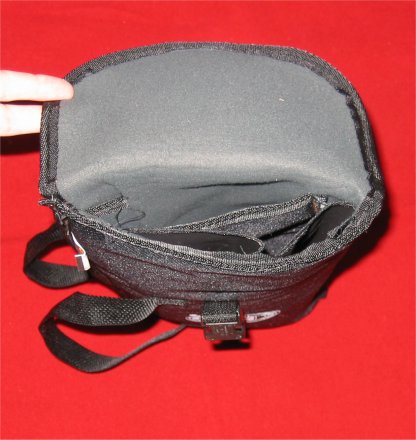 Once the NEF case came in, I was pleased to find it had decent padding between the two parts of the main compartment, plus two additional unpadded pockets for barrels. It's not really padded enough for a fine take-down over/under, but you wouldn't put that in a $21 case anyway, and it seems just right for a camping gun. The only problem is that the ends don't have any extra padding, so I may put a bit of high-density foam in there to protect the parts a bit better when it gets dropped.
Accessories:

I hate to leave accessory pockets unfilled, and it didn't take long to realize a few tubes of ammo would fit nicely in the barrel pockets, so I went off to the local Tap Plastics with some fired 20 gauge and .22 shells. I ended up with these acrylic tubes and caps. They don't show the caps on Tap's website, but they had them in the store. These tubes fit the ammo nicely:
20 gauge acrylic tube - 1" OD, 1/16" wall - $4.60 for 6'
.22 acrylic tube - 1/2" OD, 1/16" wall - $1.90 for 6'
I cut them to fit the case with room at each end so it was a loose fit, lengthwise, and it came to about 19 3/4". The .22 tubes hold 20 rounds of PMC Zappers each, and the 20 gauge tubes hold 8 rounds each. The 20 gauge tubes weigh 350-400 grams (12.5-14.5 oz) loaded, depending on the ammo, and the .22 tubes are about 100 grams (3.5 oz) each. The case is about 380 grams (13.5 oz), so the whole outfit adds 48 oz, or about 3 pounds, to the weight of the gun. There's enough room in the case for 1 more of each tube without increasing the bulk much, but it's already getting a bit heavy.
The 20 gauge tubes have some extra space, so they'll get cut down to 18 3/4" to keep the shells from sliding around too much. Interestingly, the 2 kinds of shells I loaded into them are slightly different lengths, and the Remington Express Buck are 1/4" longer than the Winchester AAs when you stack 8 of them together.
Unfortunately, acrylic's not the strongest plastic around for impact resistance, and these may be susceptible to breaking during handling and carrying, particularly in cold weather. Polycarbonate is much better, but the only polycarbonate tubing Tap had on hand had thicker walls, and the 20 gauge shells wouldn't fit. It was also heavier and a good bit more expensive ($5 and $20 per tube), but I'll probably get some for the .22s to try it out. I'll shop around for other sources for polycarbonate, as it's a perfect material if I can find it with a big enough ID.
For reference, my .22 shells are 0.272" (nearly 9/32") diameter at the rim, and my 20 gauge shells are 0.765" (nearly 25/32") at the rim.
---
Top Original Factory Cases Other Takedown Cases 1980 Shooter's Bible Savage 24 Page
Original Factory Cases:
This was the first version of the Savage factory takedown case. It was a plastic case that had a tendency to crack with age and use.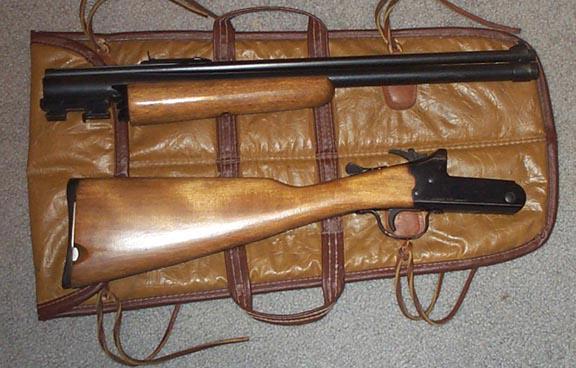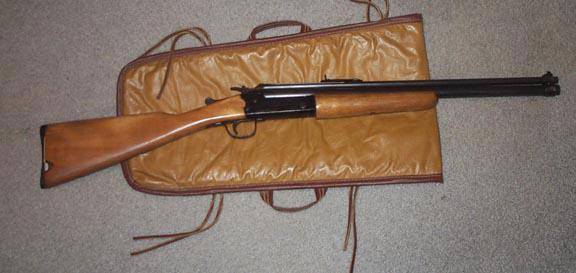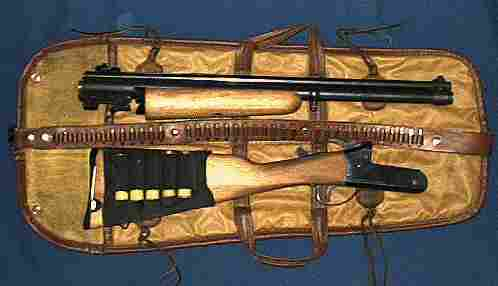 This is the second version of the Savage factory takedown case. Made of camo fabric with straps and buckles instead of leather ties, these held up a lot better than the original plastic ones.
---
Top Original Factory Cases Other Takedown Cases 1980 Shooter's Bible Savage 24 Page
Other Takedown Cases:
These are suggestions from other Savage 24C folks in a wide range of prices and styles. I don't have any personal experience with them, but if you're looking for alternatives, these are worth checking out.
---
I've found that silicone gun sleeves are a good addition to many cases, as they help hold the pieces in place and keep them from scuffing each other. They also provide extra protection against rust. I use them in my safe for guns I don't take out too much.
The best price I've found is the Sack-Ups Bulk Pack from Cabela's - 6 for $24, $6 shipping. Unfortunately, they don't seem to carry them any more. These can be cut down if you have some simple sewing skills to make a good fit for the pieces of a take-down.
To find who carries them now, try this Google search: http://www.google.com/search?hl=en&q=%22sack-ups%22, or go to Midway or Sportsman's Guide and search on "Sack-Ups".
---
Greg Sargent sent these pics and info on a nice looking case he found for his 24C. It's more structured and sturdy than the NEF case, and better padded as well.
"On a trip to my local Academy Sports, I checked all their gun cases, none of which fit the bill. Then, I had an idea... how about a paintball marker case? I went a couple of aisles down to the paintball markers and accessories and they had three cases available. Two were soft-sided and had only a single compartment, so they were not appropriate for a break-down application. However, one of the cases was a nylon-wrapped, hard sided case with convoluted foam inside. The dimensions were perfect! The case is a "Tactical Performance" product and sells for only $19.95. It comes with a hard folding handle, pad-lockable zippers, an adjustable shoulder strap, and small "feet" for standing it upright. My only dislike of the case is the red color, but I can live with that. I did however, "subdue" the bright red embroidered "Tactical Performance" logo with a black permanent laundry marking pen."
Tactical Performance Case at Academy Sports - if the link is broken, go to http://www.academy.com and search for "Tactical Case".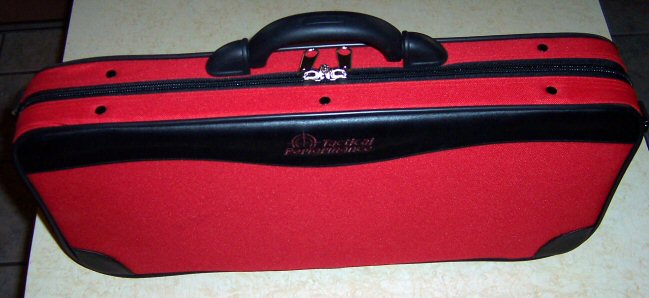 ---
Other suggestions:
Galati Takedown Rifle Pouch, 2 padded pockets, 23" x 9 1/2" - $24: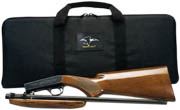 Galati Takedown Rifle Pouch - If the link is broken, go to http://www.galatiinternational.com and search for "takedown"
---
The Rossi Matched Pair case is black nylon with a white Rossi logo stenciled on. It has unpadded nylon compartments inside. It looks a lot like the NEF case. The web site has both a full size and a youth size, each for $30, but gives no dimensions. Fortunately, several helpful users have emailed me with details on these cases, which are also available at Cheaper Than Dirt.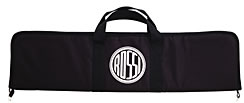 http://www.rossiusa.com/products/products-ammo.cfm
These cases are zippered on 3 sides and are lockable, with 3 unpadded internal pockets - 2 narrow ones on one side, one full width one on the other. They're 1.5" thick when empty, and 4" thick with the gun sections inside, depending on the gun. The youth case is designed for the Rossi Matched Pair youth combo, which has a stock/action section that goes in the wide pocket, and an 18.5" rifle barrel and 22" shotgun barrel that go in the narrow sections. The full size case is a little long for a Savage 24S with a 24" barrel, but is the perfect length for a 12 gauge H&R Topper with a 28" barrel.
Youth Size Carry Case - 24" x 7.5" - Rossi PN 6-0006 or 60006:
http://www.cheaperthandirt.com/80052-4777-888.html
http://www.ableammo.com/catalog/product_info.php?cPath=14420_14496&products_id=88992
Full Size Carry Case - 31" x 8" - Rossi PN 6-0009 or 60009:
http://www.cheaperthandirt.com/80089-4778-888.html
http://www.ableammo.com/catalog/product_info.php?cPath=14420_14496&products_id=88993
Many thanks to Mike and Victor for the details on these cases!
---
Very nice SKB takedown gun case, soft canvas, leather, well padded for $75 from Cabela's. Available in 28", 30", and 32", all of which will be long for the 24C, but may fit longer barreled 24 models. Search for SKB if the link doesn't work.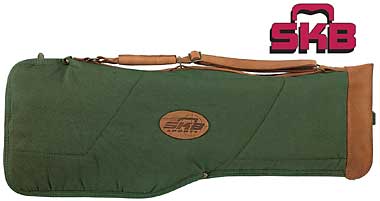 ---
Bagmaster Takedown Case:
Take Down Weapons Case 25: The main body is 25" x 9" and is lockable, and the pockets are padded. It has a 23"x8" gun pocket, 2 23"x4" barrel pockets, and a outside zippered pocket that's 8" tall, 10" long, and 2" thick, for $43. They also make one in 35".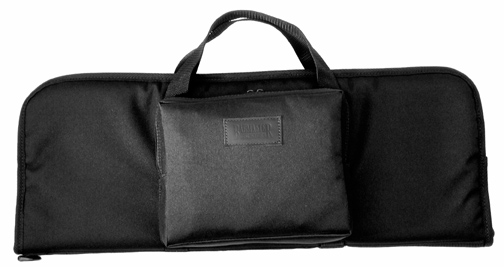 https://www.bagmaster.com/website/cart/shopexd.asp?id=100
---
Top Original Factory Cases Other Takedown Cases 1980 Shooter's Bible Savage 24 Page